Hello and Welcome to our Website



Amore Apizza first opened in 1995 is currently celebrating it's 20th anniversary. With more than 25 years experience between them, It was a long time dream of both owners, Keith and Eddie, to open a pizza business of their own so they opened up a little take-out delivery pizza restaurant on North Turnpike Rd. in the Yalesville section of Wallingford.They firmly believe that superior ingredients make a superior final product and are also committed to providing a superior delivery service.

We offer thin crust traditional "New Haven" style pizza using the finest whole milk Wisconsin mozzarella. Our pizza dough is made FRESH daily -kneaded by hand and is imparted with just the right amount of imported olive oil.

Our pizza sauce is made from imported Italian tomatoes that we grind on the premises and season ourselves.

We proudly serve Lamberti Italian sausage produced for decades in New Haven.

We also serve Foxon Park soda, family owned and operated in Foxon, East Haven since the 1920's.

In addition to our pizza we also offer grinders, dinners, salads, wings and more.

We deliver for lunch and dinner 7 days a week 362 days a year (closed Thanksgiving, Christmas and Easter) also our brave delivery staff has delivered through every snowstorm since we opened our doors. Over 90% of the deliveries are at your home within a half an hour..........No matter when you call-busy,slow, day or night..

.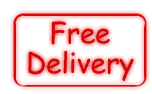 Hours:
Mon - Thur....
Fri and Sat...
Sunday........

11 to 10
11 to 11
11 to 10
---
203-265-2379

---
Minimum order for delivery is $6.00 and we deliver in Wallingford and S. Meriden
**See Our New Lunch Specials
click
here
**